Follow our process from the ground up with the construction of this new custom home in St. Pete's Patrician Point neighborhood.
The client's vision for what would eventually be a 4,957 square foot custom home was first expressed to us in early 2019. After searching for some time for that ideal piece of property, they finally found it on 39th Avenue NE in Patrician Point – and snatched it up without hesitation.
The couple had a general idea of the home style, layout, and features that they wanted, but nothing concrete down on paper. They also weren't sure what to do with the existing home on the lot: should they renovate and add to it to fit their vision, or just tear it down and start from scratch?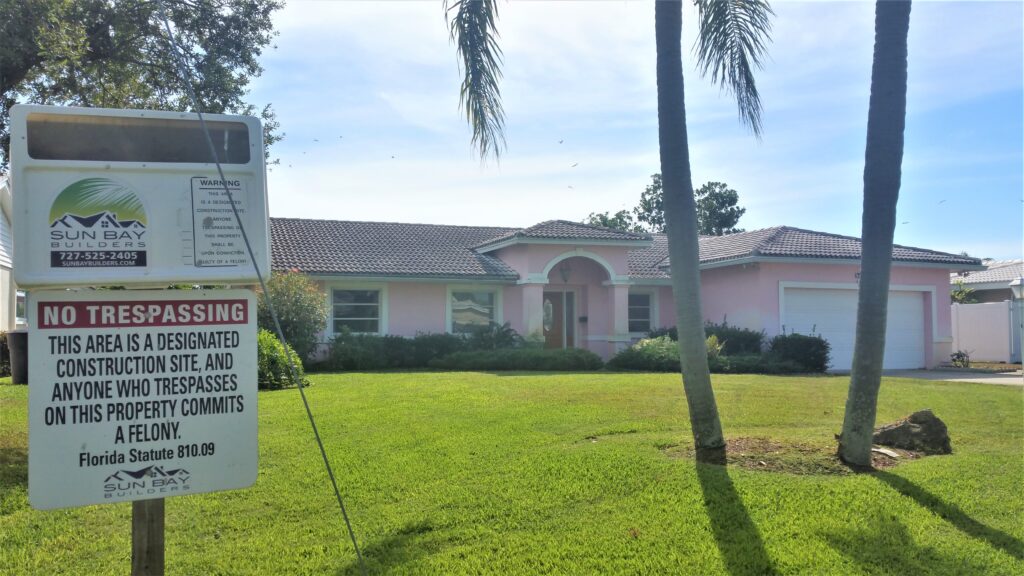 That's when they came to us. The fact that they didn't have architectural drawings yet was just fine; in fact, our design/build service is ideal for situations just like this one.
The first order of business was that big question of "build new or renovate". A demo/new build approach is usually more expensive upfront – but would this be the smartest move for them long term?
There were additional factors that came into play in regards to this decision, and as we do with all clients, we were happy to have an initial consulting meeting to point them in the right direction. Here's what we took into account:
Design & layout feasibility – Would the client's vision be possible to pull off within the confines of the existing structure?
Future value – What would a whole home renovation do for future prospects vs. a newly constructed home?
FEMA – Being in a flood zone, the location was subject to the "49% Rule" – placing limits on how much renovating could be done under one permit. How would this impact costs and timeline?
Ultimately, the decision was made to demo the existing home and rebuild. For more on the intricacies of the renovate vs. rebuild decision, click here to visit an earlier Sun Bay article. You can also learn more about FEMA and the "49% Rule" here.
With the demo decision made, it was time to start design and get their West Indies Transitional home vision down on paper.
Here at Sun Bay Builders, we work with a small, select group of architectural partners on our design/build projects. While they've all proven their expertise time and again for clients, they all operate slightly differently – and it's important for us (as the General Contractor) to select the right one. Some work better with certain project types & architectural styles than others, and some have more experience in given areas of Tampa Bay.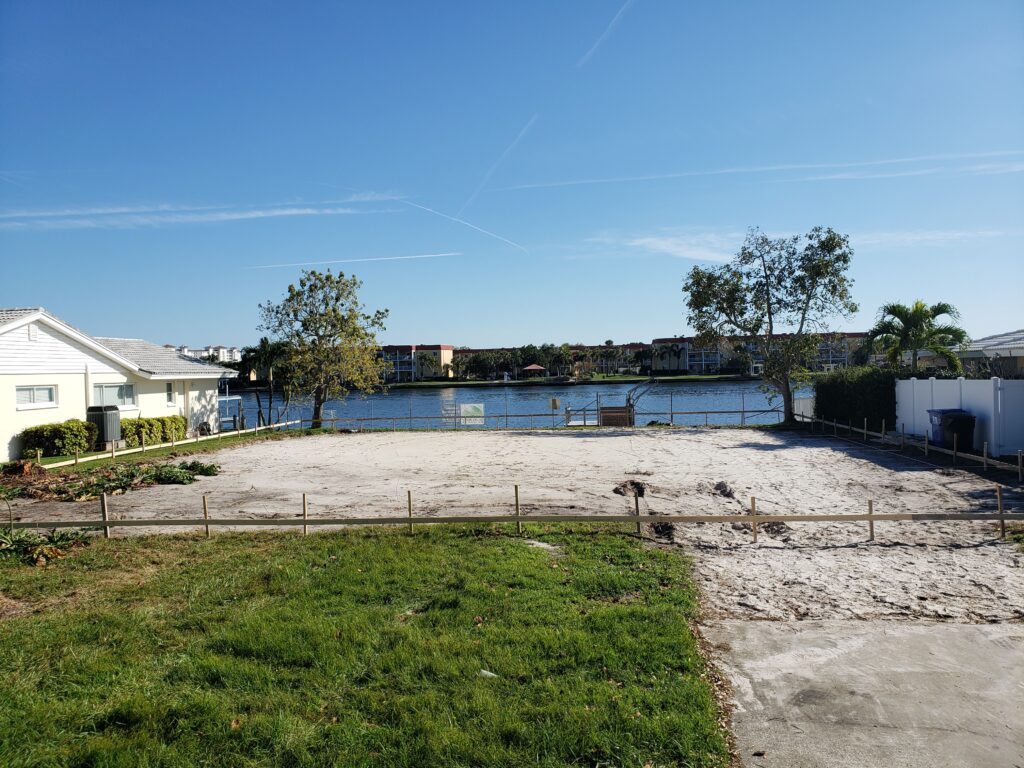 The couple knew they wanted their dream home to have a West Indies Transitional style, and placed an open floorplan ahead of total square footage in importance. For our design/build projects, a couple basic guidelines like these are often all we need to start getting the design on paper. We ended up selecting Jovanovic & Lyons, LLC as the ideal architectural partner to work with on the project.
The next step was a thorough discussion between the clients and our Owner/Licensed General Contractor, Mike Miano. During this meeting we discussed how to proceed with the early-stage construction categories, including masonry, framing, and roofing. We also dug deeper into the client's wish list when it came to mid-stage and finishes – from windows & siding to fireplace & pavers, and everything in-between.
Armed with this knowledge we were able to provide a ballpark project cost to the client. When we say ballpark though, we mean it – as doing estimates at this stage (without preliminary architectural plans) is tough and often all we can do is provide a range. Nevertheless, the couple was happy to receive it and gave us the go-ahead.
The client meeting also provided a strong working foundation for the builder/architect dynamic. Having us both on the same page from the beginning was a huge advantage, as we were able to collaborate on every aspect of the project without wasting time on plan revisions. Situations where the architect proposes something that the builder can't possibly pull off, or vice versa, can be virtually eliminated with design/build. Click here to learn more about design/build's benefits.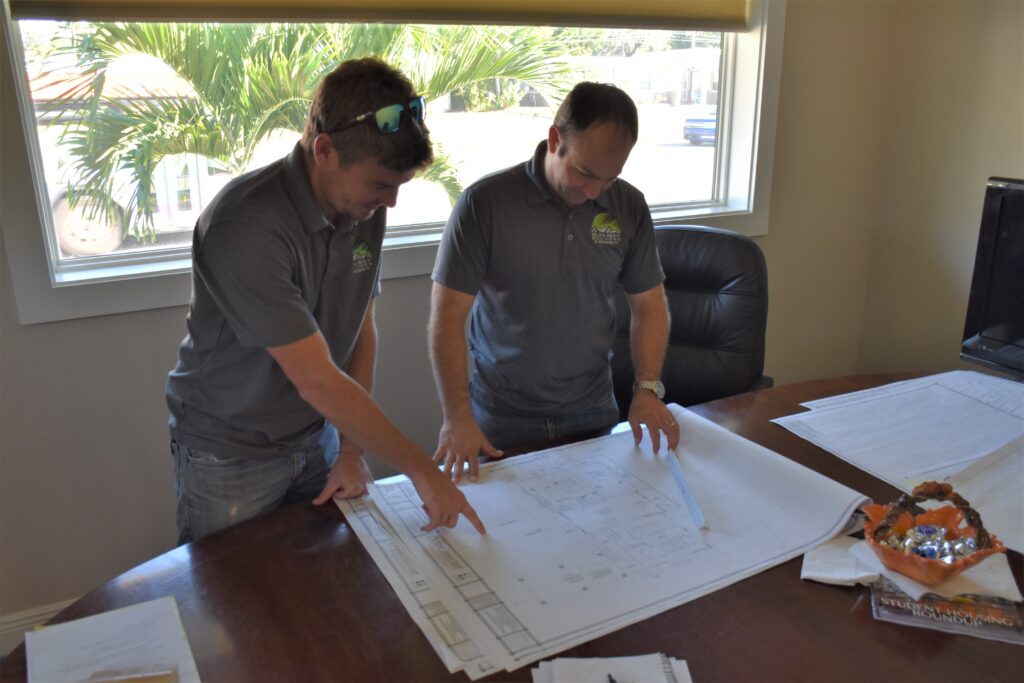 Jovanovic & Lyons was then able to get the layout framework down on paper. The next step was a meeting with all 3 parties – the client, architect, and ourselves – to really work through design specifications. This is always exciting for us as it's when we really get to see the client's vision come to life.
After this meeting, Milan Jovanovic got started on preliminary architectural drawings. While these plans weren't final, and couldn't be submitted for a building permit, they did provide us with enough to put together a more accurate estimate of total project cost.
Which is just what we did. After taking a couple weeks to perform unit pricing and gather subcontractor quotes, we presented the client with a formal written estimate. To everyone's esteem, they gave us the green light to move forward with demo and on final permit-ready plans.
Putting the final touches on design – and breaking ground on a new dream home.
The time had arrived to get the demo permit, get the bulldozers out there, and watch them do their thing. The wheels were now in motion.
After excavation and site prep, all 3 parties would then meet on site to discuss final details ahead of the creation of final permit-ready plans. At this point, every aspect of the home has been decided on & agreed upon between the homeowners, architect, and builder.
Jovanovic & Lyons got started on final drawings right away. At the same time, we started putting together a final contract based on the architectural specifications that weren't in the preliminaries, but were now included. The final contracted amount (to everyone's pleasure) wasn't far off from what we estimated – so the contract was signed and it was time to get a building permit.
The permit was secured a couple weeks later and the build was underway. The foundation was laid and the rest fell nicely into place – thanks in no small part to the open dialogue that existed throughout the design/build agreement.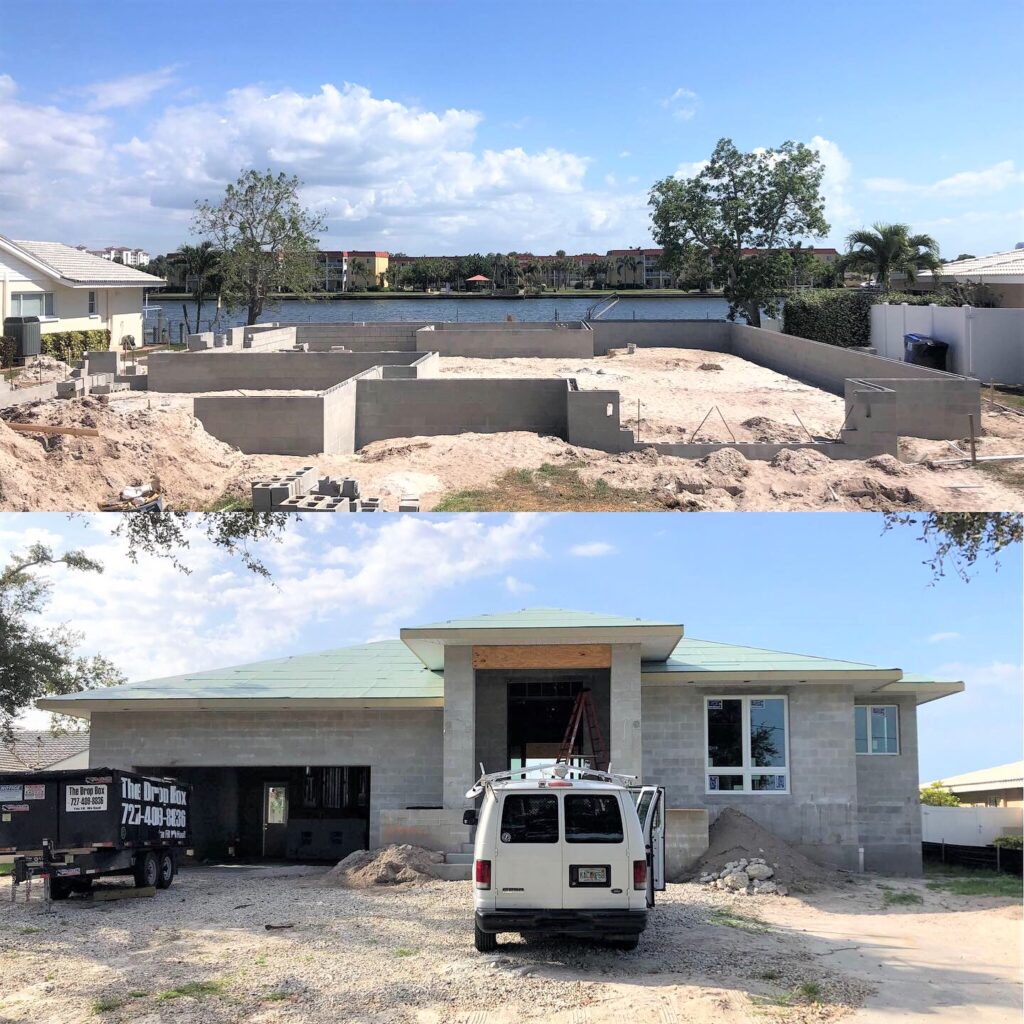 The smooth working relationship between us and Jovanovic & Lyons continued throughout the course of the build. Any questions that arose from our team in regards to the plans were quickly resolved and there were no major holdups.
This also made life easier for our subcontractors. Take cabinetry, for instance: installers must be very precise as a miscalculation during installation can throw off the fit of appliances and interior trim, causing significant delays. This was eliminated during this project thanks to the design/build dynamic and precision of the plans.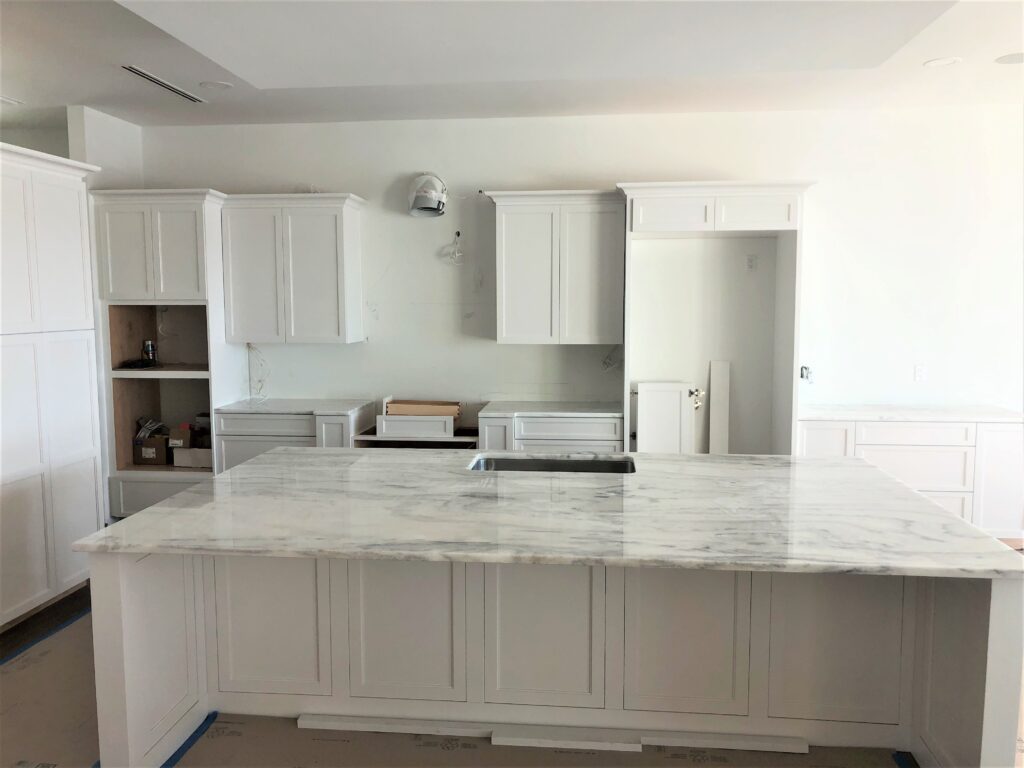 When it came time for the final walkthrough, the client was more than pleased. We traversed every room with them and put together a punch list based on their comments – focusing on any detail that may not have been 100% satisfactory quite yet.
Over the following week we addressed each item on the punch list to the client's satisfaction, and the home was then move-in ready. The only thing left to do was get a final inspection with the city, which was passed a couple days later.
The entire process took a little over a year from initial agreement until we handed the keys over. Going the design/build route proved to be a winning decision for everyone involved and the couple is ecstatic about how their custom home turned out.
Here's a sneak peek of the finished product:
If you have any questions about our design/build process or would like an initial consultation on your project, don't hesitate to contact us! We're here to help and pride ourselves on full transparency right from the start.
Click the button below to view the full photo gallery of this West Indies Transitional custom new home!