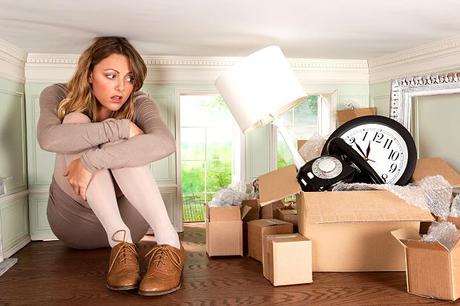 Time's up on your home. What should your next move be?
Nobody likes change, especially when a lifetime's worth of memories are involved.
But alas, it's a scenario likely to happen to all homeowners at one point or another: what was once your dream home is now an outdated reflection of its former self. You might begin to wonder if it's time for a facelift – a subject that's even tougher to address due to the emotional attachment you and your family have.
Or maybe you got a great deal on a new home a couple years back, and now find yourself stretched to the max within it due to changing family and personal needs. Something's gotta give, and selling off your kin is definitely not an option.
Although these two scenarios are quite different, either way, it's time to make a big decision on your future.
Your first thought is likely to go in the direction of selling and relocating. But new neighbors? New nearby amenities? A new commute to work? If it's your dream home, it's likely in your dream neighborhood – and uprooting your family often comes with a variety of changes that many aren't ready to take on.
So, it's time to explore other options.
Building a new custom home vs. renovating an existing one
Once you've found that ideal piece of land, it's very hard to let it go.
For many, when this situation arises the better question is this: do I transform my current house or just start from scratch? Here are some important pros and cons for homeowners to consider:
Whole home renovation PROS:
Less expensive, and can minimize on property taxation
Maintains the history of the home and year built
Whole home renovation CONS:
Limitations due to the home's existing conditions
Renovation also carries the added burden of FEMA regulations, which can impact the scope of your project
Old construction methods used to construct home generally do not meet new standards
Often more complex when dealing with existing conditions, which can add time to the job
All issues may not be resolved and new ones could pop up
New home construction PROS:
Can custom build it just the way you want (no existing conditions to contend with)
New construction practices will ensure a structurally sound home on a solid foundation
Can build to meet flood plain requirements, thereby avoiding complicated FEMA regulations
New energy efficient options are made easier to install with the design of a new home
New home construction CONS:
Expensive (around 20-30% higher)
Zoning restrictions (i.e. many urban/suburban areas have limitations on size, allowable building coverage on lot, etc.)
It's an all-or-nothing proposition, as you must move forward once you've demolished
Have to find temporary housing
Conclusion: it's situation-dependent, but new home construction is usually the way to go.
If it's strictly a financial decision, then it's hard to argue with going with a whole home renovation. Just be aware that you may not have the flexibility you desire, and that you may have to revisit this scenario in the future.
But if you're more financially secure, or envision yourself in your home for the long haul (not looking to sell in the next few years), then we recommend building a new home. You'll have the peace of mind of more up-to-date construction, and will be able to specify your build precisely how you want.
Every situation is different, though, so we strongly recommend evaluating the pros and cons on the list above first and foremost. A good licensed general contractor will provide even further assistance with your decision.
At Sun Bay Builders, this is why we like to ask new prospective clients what their 5 or 10-year plan is. It's crucial that you and your builder are on the same page about what your needs and vision are.
Best of luck with this important decision.
–Co-authored by Sun Bay Builders GM/Co-Owner Mike Miano, Jr. and Business Development Manager Rich Haschke
Have a question on which route you should take? We're happy to help. Click the button below to contact us.