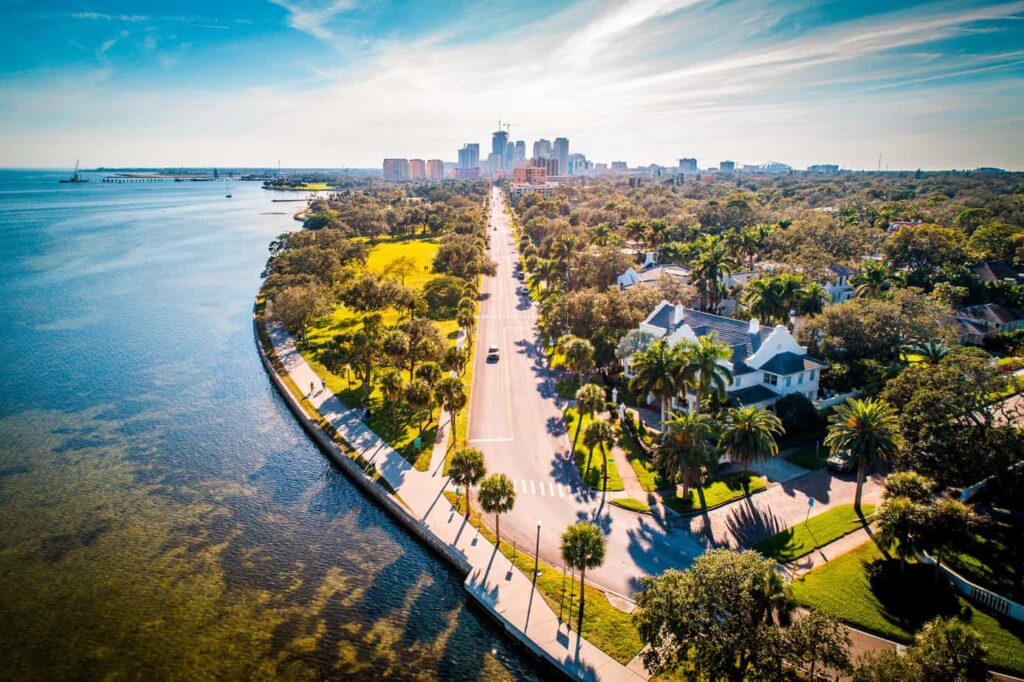 St. Pete's neighborhoods all add to the appeal of the city, and offer their own charming qualities.
Let's be real: it's hard to find a bad place to call home in St. Pete.
I mean come on, when you're in a place with amazing weather, beaches, great restaurants & breweries, and endless entertainment options, what's there to complain about?
But just like in any city, certain areas are going to make more sense for you and your family. And the Burg has a little something for everyone.
If you're a young professional, perhaps Downtown makes the most sense for you. Or if you're nearing retirement and looking to settle down, maybe Maximo or Gulfport is more your flavor.
For the purposes of this article, though, we're focused on the best of the best. The neighborhoods you'll find on this list play host to some of the most beautiful homes in the St. Petersburg city limits, and are, by our opinion, the best places for families to live.
Home/property value isn't the only metric we're using, however. Geography, landmark proximity, family orientation, and safety also come into play.
What neighborhoods stand out in East and North St. Pete?
For this first installment of our two-part installment, we'll cover the top neighborhoods within the North & East ends of the Sunshine City. Here they are, in alphabetical order. Click on the neighborhood name for association links:
Allendale: Known for its curved brick roads and overhanging trees, Allendale is small in land area but packs a punch with some of the more impressive homes you'll find in St. Pete. It's tucked within 9th St. and 16th St., and just north of 38th Ave. N. and Haines Road – right smack in the middle of East St. Pete with close access to both 4th St. and I-275. Its shadowy tree canopy and non-linear layout give Allendale a feeling of comfortable isolation.
Crescent Heights: This perfectly-square neighborhood is located just north of Crescent Lake – between 22nd & 30th Avenues North and 4th & 9th St. Within its borders are a variety of beautifully landscaped homes and a wonderful family-friendly atmosphere. Just outside its borders are all the grocery stores you'll need (Trader Joe's, Rollin' Oats, Fresh Market) and the famous Trip's Diner. Home values aren't quite as high as some others on this list, but you can't beat the location and overall feel.
Old Northeast: This beautiful area just north of downtown still captures the historical essence of the city, although many of its houses have been modernized over the past couple decades. Its proximity to Beach Drive Central Ave., and 4th St. are huge draws for many, but the untouched brick roads and curb appeal are what sets it apart. This neighborhood has it all.
Shore Acres/Venetian Isles: This large neighborhood extends out to the easternmost point of mainland Pinellas County. It possesses an island feel that gives many families a sense of security and community. It consists of a mix of expansive and more affordable homes, and is a great place to raise a family. Plus, few neighborhoods offer more opportunities for water sports enthusiasts.
Snell Isle: Located just southwest of Shore Acres/Venetian Isles is Snell Isle, boasting some of the top home values in St. Pete. Just take a drive down Brightwaters Blvd. for a glimpse at some of the stunning homes, many of which are just steps from the water. You've got golf right nearby with Vinoy Golf Club and Mangrove, downtown just a couple miles away, and some great parks to take the family to. A target destination for many of the "who's who" in the city.
Tanglewood: Residents of Tanglewood are situated near some of the more unique nature in St. Pete, with Weedon Island right across the way and water & mangroves everywhere. It offers affordability for families in many stages of life and can't be beat when it comes to safety and seclusion. While it's a bit further from the downtown area, it is closer to the Howard Frankland Bridge than others on this list.
Custom home construction helps keep any neighborhood within reach.
At Sun Bay Builders, we've done work in all of these neighborhoods and have seen firsthand all of the opportunity they offer.
Best of all, you can still call them home even if you don't find that perfect house for sale. A custom home builder will provide renovation or new construction services in a way that suits your specific needs – so no matter what you start with, you can still have the home of your dreams in the neighborhood of your dreams.
Come back next week as we continue our neighborhood tour of St. Pete, and run down the top options in the southern and western ends of the city. CLICK HERE TO VIEW PART TWO!
-Co-authored by Sun Bay Builders Project Manager Jason Denniston and Business Development Manager Rich Haschke
If you're considering a move to or home upgrade within St. Petersburg, click below to take the first step.