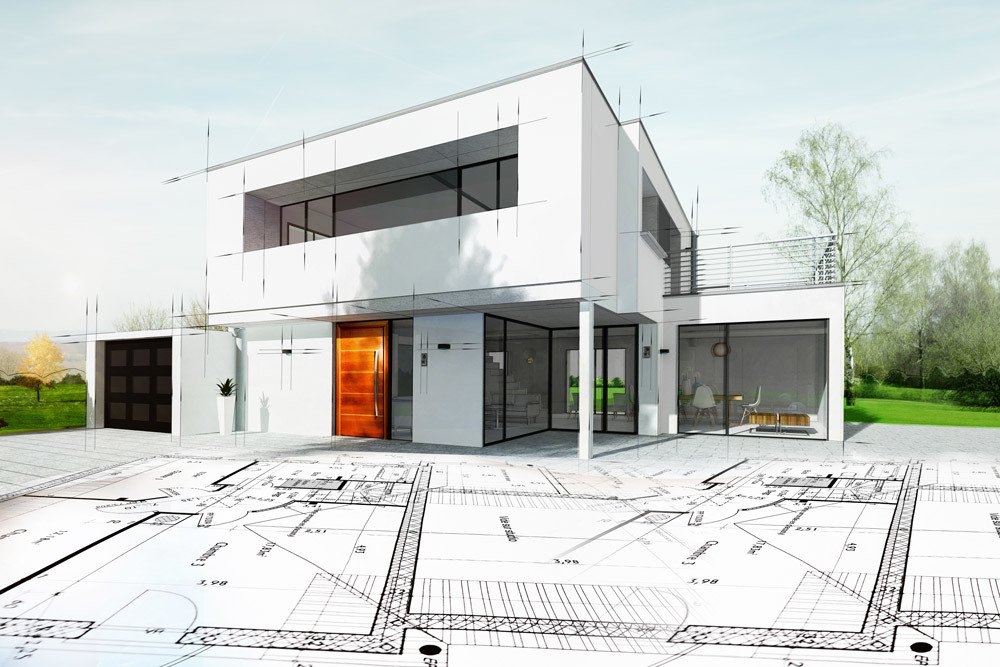 It's important to consider all options at the beginning of your home construction project.
Few things are as rewarding as watching your dream home evolve from "vision" into "reality".
All of the design ideas that have been springing up in your mind are now on the cusp of becoming tangible.  Whether it's a major home renovation, room addition, or new custom home – you can't wait to get them on paper and create some professional drawings.
We get it – you're beyond excited. But not so fast.
Before you hire an architect or purchase expensive software to draw plans yourself, take a second to breathe and weigh your options. There might be a better way to proceed that's not only easier, but will result in a better end product.
Consider streamlining the major elements of your custom home project.
Some General Contractors choose to focus specifically on the "build" end of the construction equation. They're good at what they do, and want to focus all of their energy there, which is great.
But many GCs offer homeowners a full service option that covers the entire design/build spectrum, which is the case with us at Sun Bay Builders. Roughly 50% of our clients go this route, while the other half strictly uses us as their builder.
And quite often, the ones who do use design/build are very glad they did.
That said, it's understandable why you might want to take home design into your own hands. Maybe you already have a relationship established with an architect, have architecture experience yourself, or just can't wait any longer to get your home design ideas on paper.
But the main reason – full disclosure coming – is that it's generally less expensive to secure your own plans in advance. And when you're staring down a 6 or 7-figure project price tag, saving money can be very appealing.
Pros & cons of your contractor's design/build service.
This additional price is at the top of the short list of "cons" for design/build. The early part of contract negotiations might also take longer, as you're essentially starting from scratch with design.
Another appealing thing about having your own construction drawings ready (as opposed to design/build) is that it makes the project feel "real". Major home construction is often a back-and-forth game of "should we or shouldn't we", and the drawings provide validation that you're moving forward.
The case FOR design/build, conversely, is much stronger. Here are some reasons why design/build is generally the better option for homeowners:
First and foremost, it's easier! There's less work required on your end, both in terms of vetting/finding an architect and with the actual design.
There's sure to be a symbiotic relationship between the two elements right from the start, rather than disorganization and confusion.
That said, a good design/build contractor will still give you free reign to bring all your custom design ideas to life.
Sometimes, an architect's pre-formulated plans won't vibe with what the builder can provide at your given budget. Going with design/build alleviates this concern.
The builder may not have the greatest relationship with the architect you've chosen, which can hurt the project. Design/build ensures that the two sides have a healthy, functioning partnership.
You'll also know you're getting a trusted architect, as builders won't want to risk their reputation with a less-than-stellar one.
You can receive expert advice on your project from both sides, and be sure that what they're telling you is achievable – which may not happen if plans are done in advance.
A good contractor will provide the same level of high service in either scenario.  But if you think design/build might be the better option for you, click here to learn more about how the process works for us at Sun Bay Builders – it's likely to be similar to what you'll see across the industry.
We work with a variety of high quality architects at Sun Bay Builders. Click the button below for a free project consultation and to find out more.