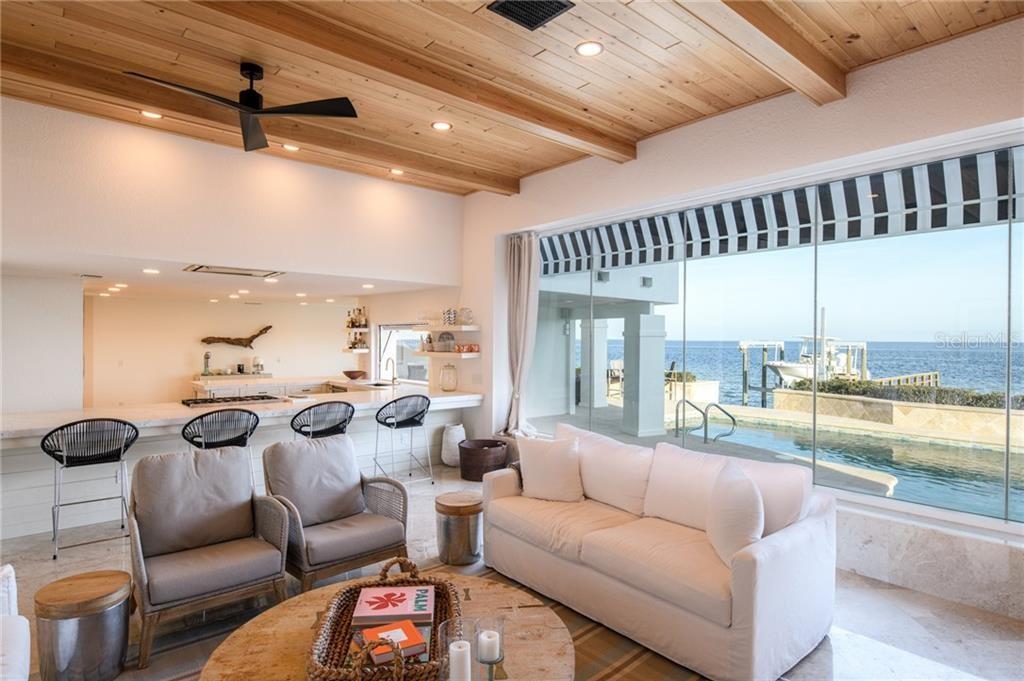 Natural, breezy, and textural — coastal-style design makes for the most soothing interiors. It is blissfully beautiful, light, and airy, and contributes to a peaceful statement home. With its timeworn pieces, chalky whites, soothing neutrals, and raw wood, the design style features a lived-in vibe and encourages relaxation.
While coastal-style interior design can be used regardless of location, it particularly assists in bringing the tranquility of the sea outdoors to the interiors of waterfront homes. This is a big reason why we utilize this design style for many of our St Pete home renovation and new build projects.
Keep reading to discover the secrets to replicating the coastal vibe in the home!
Laid-Back Color Palettes
Coastal-style interior design uses laid-back hues to set a calming base. The color palette is an affair of neutrals; from beige and gray to cream and white, there are plenty of possibilities. If the homeowner appreciates pops of color, adding shades of blue is a fantastic way to achieve the purpose. Soothing pastel hues, such as pinks and greens, are also welcomed.
Plenty of Textures
Because the coast is a rugged place, rough and raw textures help in capturing its natural elements in the interior. Several architectural elements, such as floors using light natural timbers, slat walls, and exposed wooden beams, effectively diversify texture. An easier way to inject textures is with the use of soft furnishings. Area rugs, throw pillows, blankets, and diverse upholstery are instant ways to creating a contemporary waterfront home that feels warm and inviting.
Open-Plan Architectures
The architecture of coastal-style homes is typically based on open-plan floor plans. This gives the interior an open and airy feeling, similar to the beach vibe. This is also closely tied to the use of large windows — more on that below.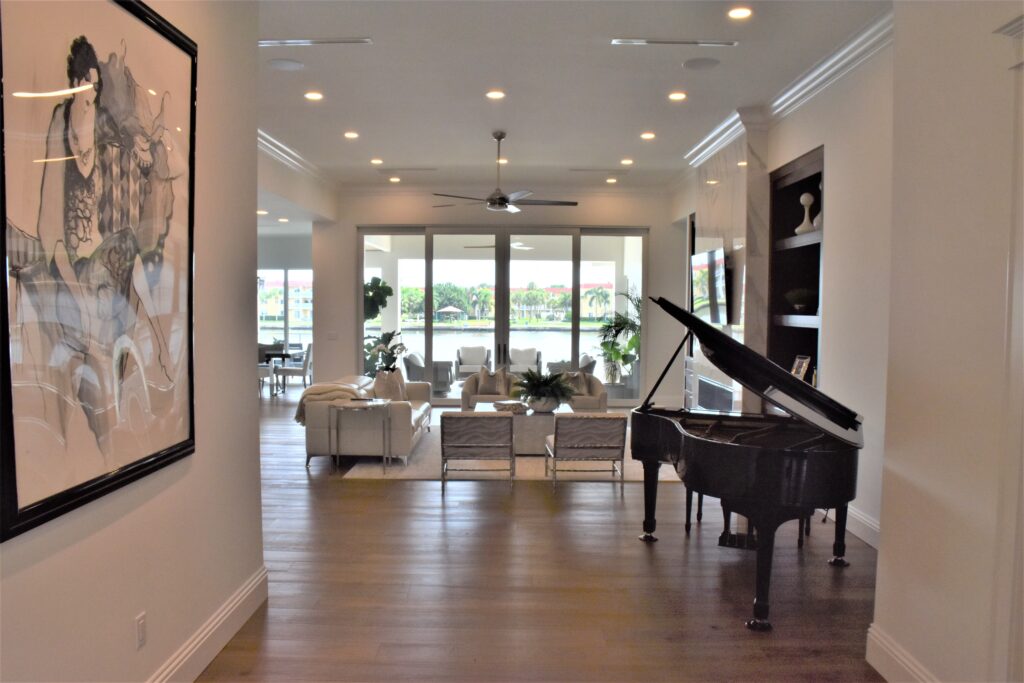 Lots of Natural Light
With the architectural element of large windows — and the use of minimal to no window treatments — natural light makes its way into coastal-style homes (view this gallery for a great example). This gives them their characteristic bright and airy vibe. Glass doors and skylights further create a seamless connection with the outdoors and make the space feel luxurious. An ideal approach to capture those legendary St. Pete sunsets!
Comfortable and Carefree Furnishings
Generally, coastal-style interior design follows a minimalistic approach with clean lines. Streamlined sofas, simple chairs and tables, and multifunctional furniture pieces are all part of the coastal-style interior design. Mixing and matching pieces in a carefree manner is also a unique way to style waterfront homes.
Nautical Elements
While a coastal-style home can create a subtle statement without nautical elements, some homeowners use them to bring a sense of whimsy and personality. These are often present in both architectural features and decorative features. Examples include anchor prints, coastal landscapes, and seashells.
Final Words
Waterfront home design can make good use of coastal-style interior design. It helps capture the breezy and airy vibe of the outdoors within the home, helping sea lovers recreate their favorite environment indoors. Sun Bay Builders, following the coastal contemporary architecture, loves to incorporate this coast-inspired style in their projects. Whether you're looking for a renovation or a new home on the waterfront of Tampa Bay, our design experts have you covered! Click here to contact us today.