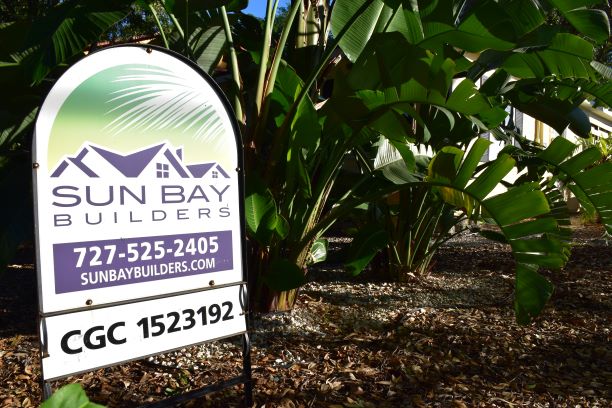 New St. Pete construction job listing from Sun Bay Builders. Please read the full job description below and see how to apply at the end – no need to fill out a lengthy job application!
We are seeking a motivated, well-rounded Superintendent to join our team. Competitive pay, great benefits, and opportunities for growth!
The position requires roughly 75% management and 25% labor responsibilities, and reliable transportation between job sites during the work day. Applicants must have a minimum of 5 years' experience as a Superintendent, with experience in the residential construction/remodeling space preferred. Pay is negotiable based on qualifications. Gas allowance and other benefits available. Job sites are located throughout all of Pinellas, south Hillsborough, and north Manatee. Applicants without carpentry experience or willingness to be a "hands-on" Superintendent will not be considered.
Sun Bay Builders is a drug-free workplace. We're a family-owned company that has been providing quality design, construction, and remodel services to homeowners around and near the Tampa Bay area since 1987. Our experience and reputation – combined with a cost-conscious approach – allows us to deliver fully custom end products of exceptional, long-lasting value.
MAIN RESPONSIBILITIES:
Work with Project Manager and Clients to set project timeline
Monitor project deliverables
Update relevant stakeholders or team members on the project progress
Coach and support project team members with tasks you assign them
Manage and organize subcontractors & vendors
Weekly client communication regarding status of project
REQUIRED QUALIFICATIONS:
3+ years in residential construction supervision
Significant experience with and knowledge of carpentry
Strong verbal, written, and organizational skills
Proficiency in Microsoft Word, Outlook, and Excel
SALARY: $60,000.00 – $80,000.00 per year
JOB TYPE: Full-time
BENEFITS:
401(k)
401(k) matching
Health insurance
Paid time off
BENEFIT CONDITIONS:
Waiting period may apply
Only full-time employees eligible
WORK REMOTELY: No
SCHEDULE: Monday to Friday
EXPERIENCE:
Superintendent: 3 years (preferred)
Construction: 3 years (required)
Carpentry: 2 years (required)
Residential Construction: 2 years (required)
Thank you for your interest in our Residential Construction Superintendent position!
If you would like to apply for this position, please email your resume to [email protected]. We will follow up with an initial phone screening if interested. Thank you!