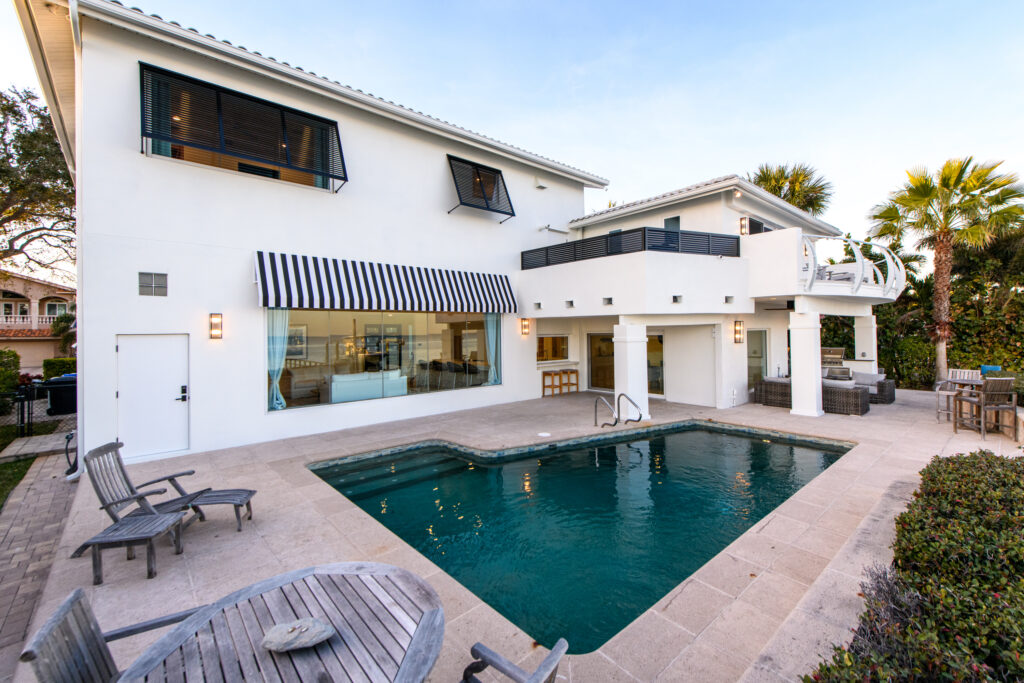 Create your dream backyard with these simple DIY projects that can turn any outdoor space from a basic plot of land to a stellar and luxurious sanctuary.
Whether you're a Tampa Bay area homeowner, or lucky enough to be in another location where the weather cooperates all year round, outdoor living is a way of life. In this article, we run down 7 simple yet effective ways to improve your outdoor living space without breaking the bank.
Create a Garden Path to Guide Visitors in the Right Direction
Walkways are one of the easiest outdoor DIYs you can take on. Set aside one weekend, gather your materials, do a bit of planning, and you're ready to get to work!
To make the most of this DIY, you can create a winding stone path through the garden, complete with benches for quiet reflection—or loud reunions. Your yard, your rules.
Build or Extend Your Deck or Patio for Indoor Outdoor Ambiance
If your home doesn't already have a deck or patio, this should be your next outdoor DIY project.
And if you do have a deck already, consider if it's your dream deck. You can always stain it a new color or demolish it and build from the ground up.
For a smaller-scale outdoor DIY project, you can lay down your own stone patio with ease.
Bring Tranquility to You with a Natural Waterfall Feature
Make your outdoor space as inviting as your indoor space with a custom natural waterfall feature.
If your yard sits on a slope, you can channel runoff over beautifully arranged rocks. Depending on how you want your waterfall to look and sound, you might need to break out your shovel and hardscaping techniques.
You can also up-the-ante by adding a water pump and water reservoir to keep your waterfall running on sunny days with no rain in sight.
Add Extravagance by Building a DIY Fire Table
A fire pit is an easy outdoor DIY to bring warmth to your backyard, but a fire table will make your outdoor living space feel even more inviting.
Get ready to utilize all your DIY skills for this one, including woodworking, metalwork, masonry, and even some mechanical engineering to set up the propane fire tank.
The finished product will be stylish, elegant, and functional.
Create Privacy with a Garden Shed Transformation
It's typical to store tools and garden supplies in your shed. After all, that's what it's intended to for. But sheds are outdoor structures with tons of DIY potential.
Transform your shed into an extraordinary hideaway, exceptional studio office, or the cozy cave of your dreams.
Everything is customizable, from the walls and floors to the furniture and décor. For this outdoor DIY project, the only limit is your creativity—and your budget.
Design a Gazebo for Outdoor BBQs
If you like to grill and drink outdoors, then a grill gazebo is a must-have DIY addition to your outdoor living space. Give guests a relaxing place to lounge next to your outdoor bar while waiting for food from the grill.
A gazebo is a larger structure that will demand more of your time, energy, and money—so be warned. If you're new to DIY projects, you may want to enlist the help of a professional to make your vision come to life.
Go All Out with An Outdoor Kitchen
If the idea of an outdoor grill gazebo caught your attention, you'll love this outdoor living DIY.
You can build an entire outdoor kitchen to make the most of good weather, great food, and even better company. Expand your patio to make room for a dining table and countertop with a fully functional sink.
Final Thoughts: 7 Simple DIYs to Bring Life to Outdoor Living
These simple DIYs are all great ideas to make your home feel as luxurious on the outside as it does on the inside. However, most of them require some skills and experience that the average homeowner may not possess.
To see your visions come to life exactly how you imagine (or better), reach out to Sun Bay Builders for a consultation.