Times have changed, but we can still enjoy St. Pete's green spaces. Here are our favorites.
Seriously…how many Netflix shows can one person really watch?
Turns out staying cooped up inside all day really isn't that much fun. But alas, it's for a good reason as we continue to fight the COVID-19 outbreak.
Regardless, I'm sure we're getting a little stir crazy at this point. Thankfully so we're still able to leave our houses and go for nice walk, run, or bike ride around the neighborhood.
Here in Pinellas County, we're also still able to go to parks.  And we have some good ones in the Sunshine City – from well-known destinations to hidden gems.
Should parks still be open in St. Pete? Maybe, maybe not – but while they are, many of us are still enjoying them (safely, of course). It's very important to get outside and enjoy nature, after all – for a variety of reasons.
Although there are currently restrictions on activities (goodbye big shelter gatherings and team sports), there's still lots of fun to be had at parks. Family picnics, nature walks, workouts, and adventures with pets are just a few examples.
From waterfront relaxation to outdoor recreation, the city's west has lots to offer.
So in honor of some of the last remaining public places that remain open in St. Pete, this week and next, we pay homage to our city's top parks with a 2-part blog series.
We start with the top destinations on the western end of the city limits (click on the park name for even more information):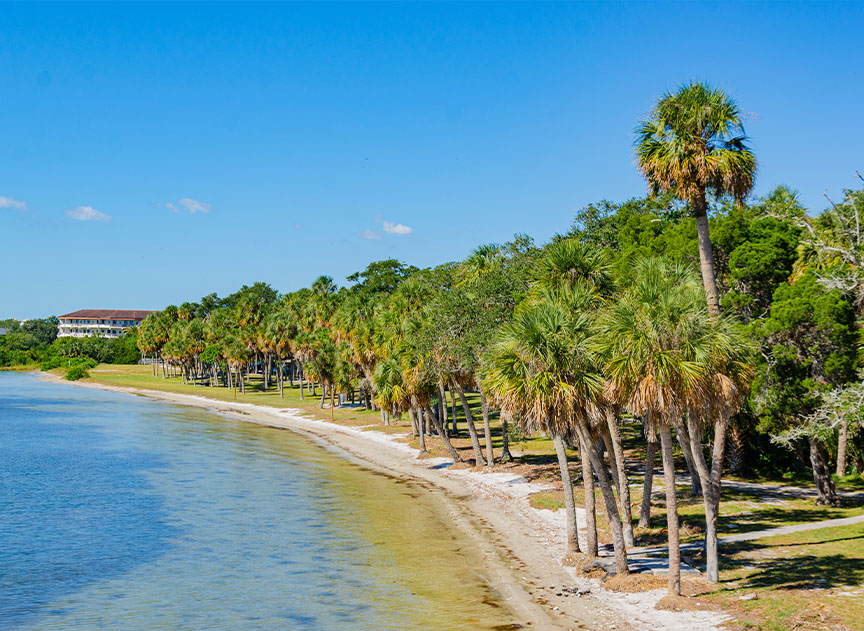 This spacious waterfront park is tucked away on the southern end of Pinellas, just north of the Skyway Bridge. It offers something for everyone – including a boat ramp, small beach area, plenty of picnic areas/pavilions, and one of Florida's premier disc golf courses. One great thing about Maximo is that if one are is too busy, you can easily find another picturesque spot to chill that's not so crowded.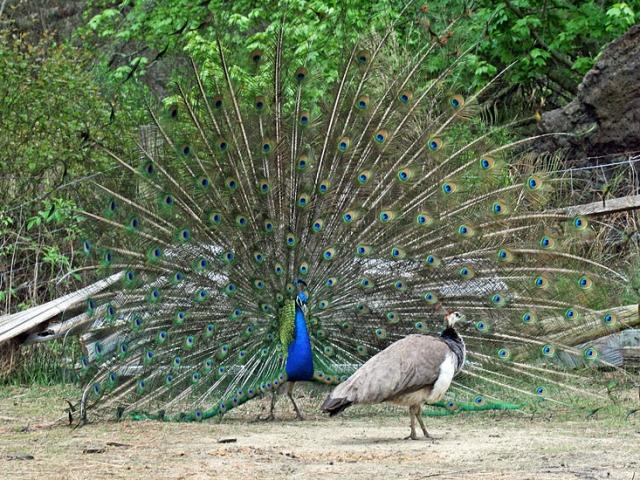 This hidden gem near Park St. is flush with history…and peacocks. It's part of an ancient Native American village site that contains multiple archaeological mounds from the Tocobaga. In 1528, Pánfilo de Narváez and his 600-man crew are believed to have landed here – setting off the first exploration of North America by white man. The history is what makes this small park really stand out, but there's also a boat ramp, gardens, and oh yea peacocks everywhere.
Like staying active? Azalea Park is your place. Recreation is the name of the game here – as you'll find baseball fields, soccer fields, tennis courts, an exercise area, a playground, disc golf course, and even a racquetball court. There's also a 1.25-mile perimeter perfect for jogs, and plenty of green space to enjoy for a picnic. A great pit stop to make before visiting the local area's many shops and restaurants (well, once they open again).

Managed by Pinellas County and located south of Tierra Verde, this park is perhaps best known by non-locals for its award winning beaches. But it's also packed with rich history – dating back to as early as 1000 AD with Tocobaga settlement, and up to the final years of the Civil War in 1865. Fort De Soto boasts a great campground, bike trails, plenty of kayaking opportunities, and tons of wildlife. Plus, the dog beach is a great place to take your furry pals.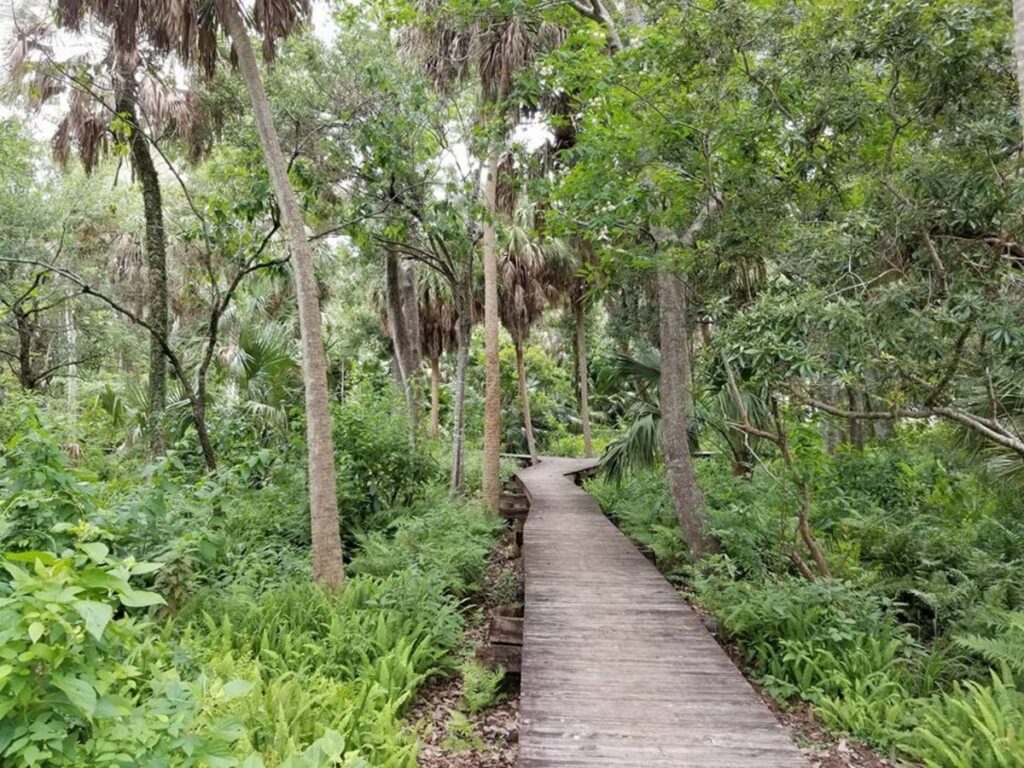 This smaller park is tucked away on the northwest end of town; but once you find it, you won't be in a hurry to leave. It offers both beautiful waterfront views and wooded charm, with plenty of big oak trees great for climbing. It's very well maintained and is also close to completing a boardwalk that will span through some of the park's best areas.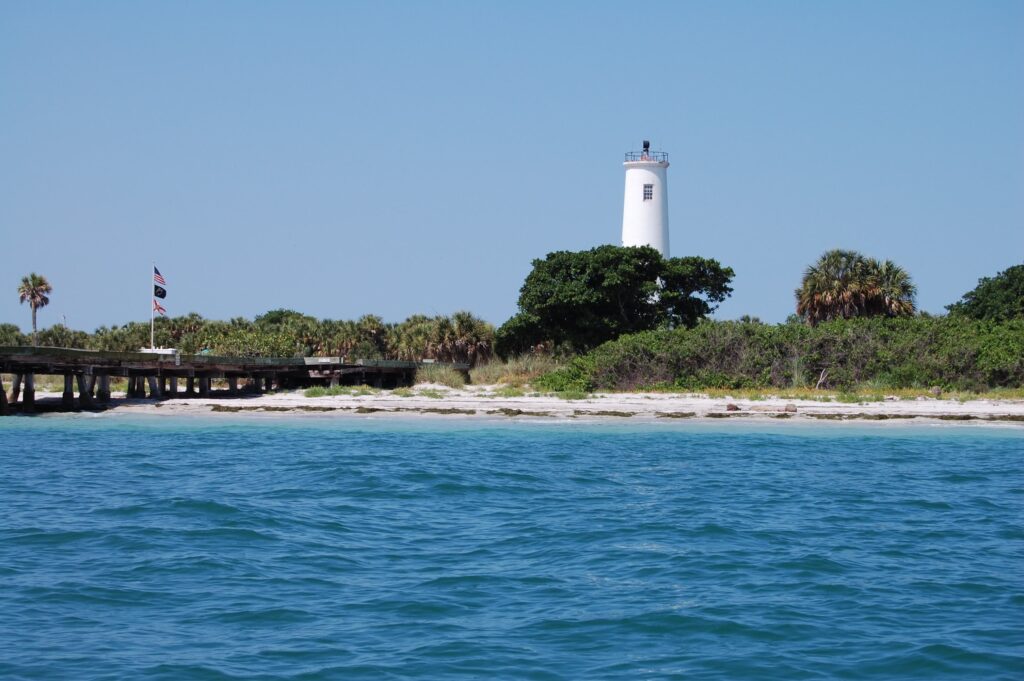 The only State Park to make list, Egmont officially has a St. Pete address but can only be reached by ferry or boat (hey, at least you don't have to worry about parking). It's famous lighthouse is what makes it stand out from a distance, but once you're there, you'll be overwhelmed with untouched nature. In addition to the incredible wildlife, it also offers many opportunities for snorkeling, hiking, fishing, picnicking, and more. Unfortunately being a state park it's actually closed right now – but be sure to check it out once local pandemic restrictions end.
Check back next week for east St. Pete's best parks!
Compared to some cities, there may not be as many green spaces here in St. Pete – but we certainly know how to make the most of them.
So enjoy them safely for now, and then let's really take in all they have to offer once all this is over!
What were your thoughts on our choices? Feel free to share your own opinions in the comments section below.
And make sure to "park it" back here next week as we release Part 2 of this blog series, where we run down our favorite parks on the east side of town.