There are important things to consider when choosing a roof for your new or renovated custom home.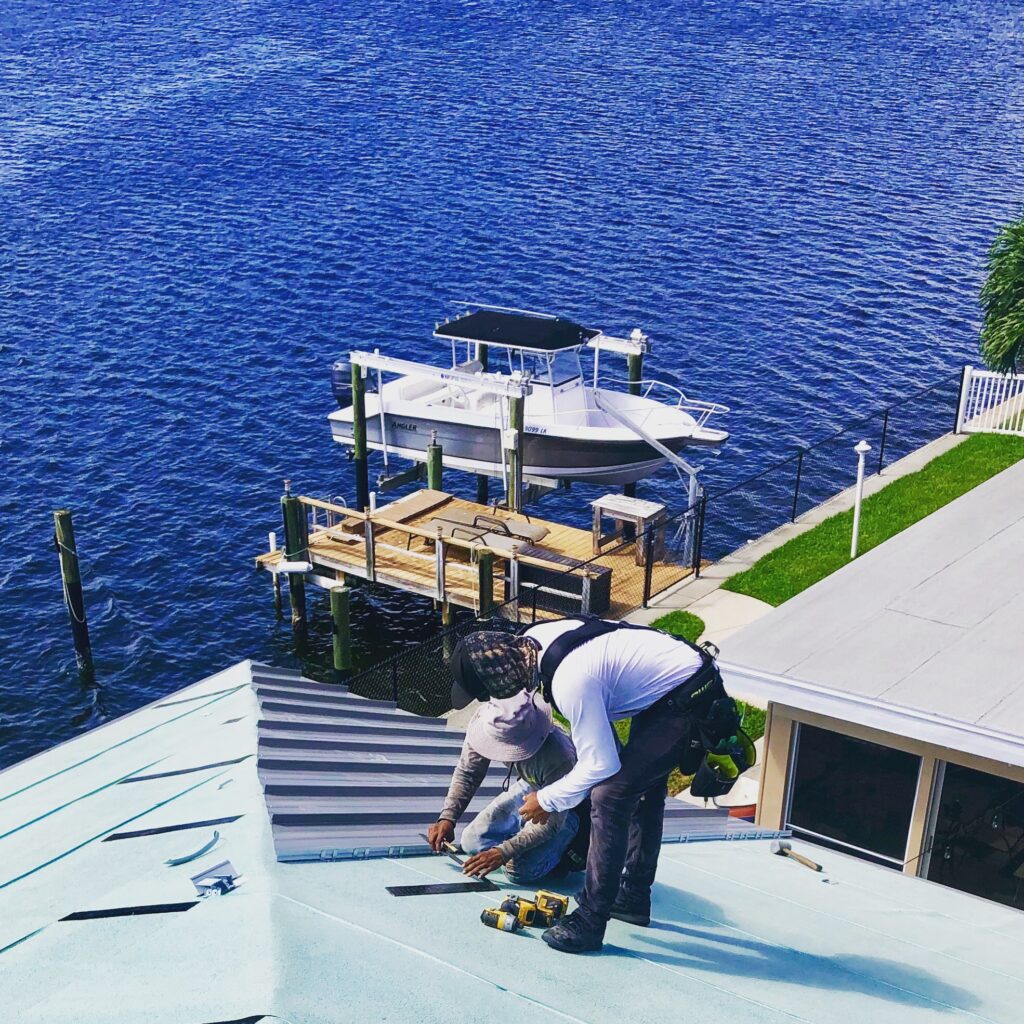 Rain. Snow. UV rays. Seagulls. Alien abduction.
Roofs protect us and our property from a wide variety of potentially harmful things. Without question, they're one of the most important elements of a home.
Whether you're getting ready to build a new custom home or embarking on a whole home renovation, the roof is undoubtedly one of the first elements your Contractor will want to cover. And while many people will just go with the builder's recommendation, you should at least be equipped with some knowledge of your different options and the factors that come into play.
First is your area's climate. The main functions of a roof are to protect provide shelter and protect you from the elements, and you'll want to familiarize yourself with seasonal weather tendencies – especially if you're moving to a new area.
Related to this are your home's environmental surroundings. Are you situated by the water? Are there trees hovering over your home? These are all important things to consider.
Next, you'll want to gather an understanding of local and state building codes. There could be restrictions on what type of roofing material you can use in certain areas…especially true in places like our Tampa Bay area that see a lot of hurricane activity.
Now, after weighing the above factors that are more related to protection, you'll want to get into aesthetics. More specifically, the architectural style of the rest of the home, the home's shape and desired roof functionality, and your general opinion on functionality vs. aesthetics will all need to be carefully considered.
Finally, consider you and your family's long term plan. Do you see yourself in this home in 5 years? How about 10 or 15? Weigh this future vision with your local real estate market and home's potential resale value to get a better idea of how to proceed.
Each type of roof material has its own advantages and disadvantages.
Let's have a look at the primary roof material options, and some key pros & cons of each.
Asphalt shingle –

Shingle roofs consist of individual overlapping elements, typically flat and rectangular. A variety of materials can be used, but asphalt is one of the more common.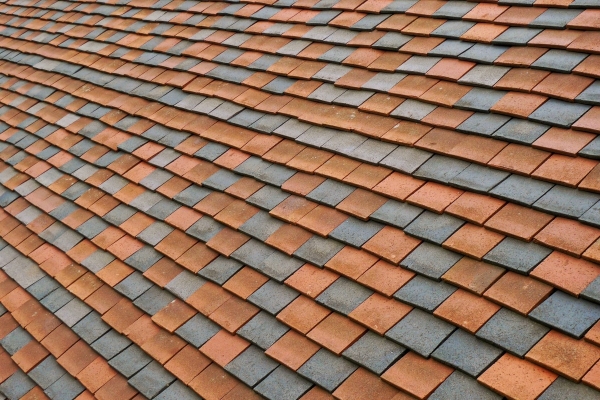 PROS – One of the least expensive; wide color variety; can be made "dimensional" for more aesthetic appeal; can work with many architectural styles; ease of installation
CONS – More potential for damage/blowing off; shorter overall lifespan; not overly reliable in extreme weather; lack of "luxurious" quality; average insulation quality
Shake –

Rectangular wood shingles cut from split logs. Popular types of wood used include cedar, white oak, elm, and poplar.
PROS – Offer great customization; provide a rustic and "classical" aesthetic appeal'; work well with the popular Craftsman & Bungalow styles; strong overall durability
CONS – More durable options are expensive; susceptible to damage (molding & rotting) especially in wet climates; limited usage in fire-prone areas; not overly energy efficient
Tile –

Can be produced from slate, terracotta, or other locally-available materials. Are generally installed in parallel rows by nailing to the roof's framework.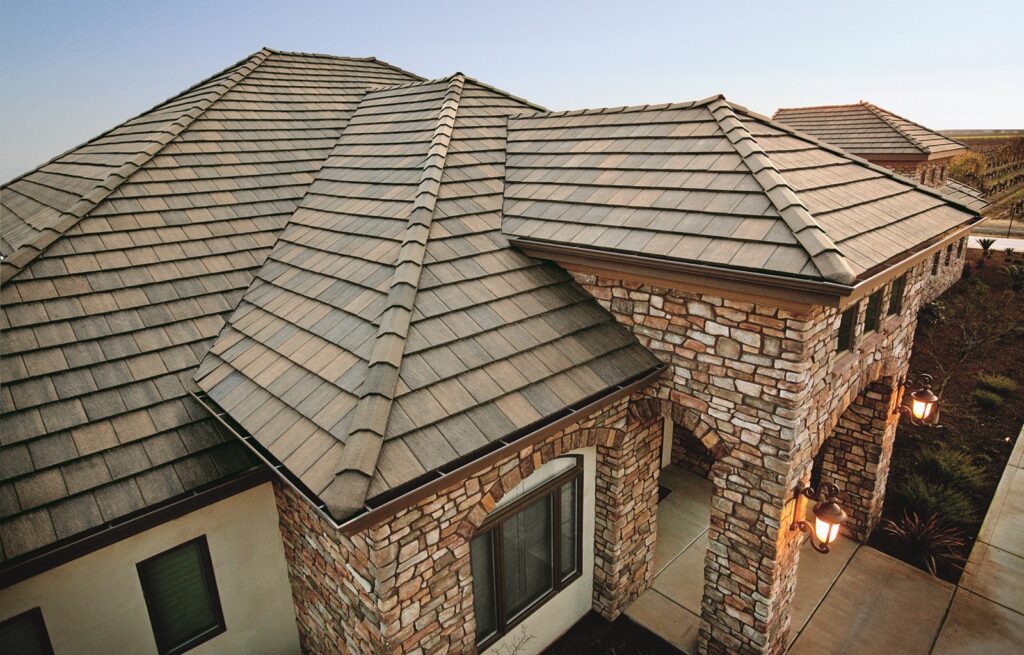 PROS – Great for protection; very durable & long-lasting; highly energy efficient; non-combustible; can greatly improve resale value in the right neighborhood
CONS – Aesthetically work with a limited number of architectural styles; heavy and difficult to install; not suitable for all roof pitches; are rather expensive
Metal –

Available in either panels or shingles, generally consisting of either stainless steel, aluminum, copper, or zinc.
PROS – Very lightweight generally; great weather resistance; are generally long-lasting; ease of installation; great at shedding snow; high solar reflectance
CONS – Are rather expensive; can be noisy; can dent fairly easily; may produce leaks if not installed properly
Composite/synthetic – Engineered shingles often made from a variety of common materials, i.e. asphalt, fiberglass, and recycled paper products.
PROS – Materials are not fragile; are lightweight and easy to install; less expensive than many other options over long term; multiple options for materials & design
CONS – Quality can vary (may not know what you're getting); may absorb water; higher initial cost
Move forward confidently with your optimal roof selection.
Armed with this knowledge, you and your General Contractor can work together to select the best roofing option for your dream home.
The GC will generally have reliable roofing subcontractors ready to work on your project. However, there's no harm in doing a little research yourself. Before you topic comes up at a pre-build meeting, it's a good idea to vet some top local providers in your area and make sure the builder's recommendation matches up with your findings.
And no matter which option you choose, it might be wise to consider going solar to help the environment and save on energy costs. Click here for a list of reliable solar providers in the Tampa Bay area.
Best of luck with your home improvement project!